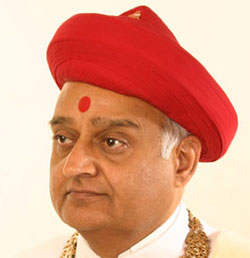 The Acharya of the NarNarayan Dev Gadi, Ahmedabad, HH 1008 Shree Tejendraprasadji Maharajshri was appointed by his father, the Late Acharya Maharaj 1008 Shree Devendraprasadji Maharajshri. His Holiness was enthroned as Acharya on Aaso Sud 2, Vikram Samvat 2025 (13 October 1969).

His Holiness took up the responsibilities of the Sampraday on the orders of Acharya Shree Devendraprasadji Maharaj from the tender age of 14 years. Accompanied by learned saints, His Holiness travelled to East Africa to nurture the Satsang there.

Following steadfastly in the steps of his Great Grand Father, His Holiness gave up his further studies to care for Acharya Maharajshri Devendraprasadji Maharaj in his days of ill-health - just as Ghanshyam Maharaj had cared for His parents in their times of ill-health.

His Holiness is always kind, peaceful, just and loving towards all. Despite all the pressures of the ever-expanding Sampraday, one never witnesses a sign of fatigue on his body. Neither does His Holiness turn down requests from followers to attend festivals, padhramnis, etc. Ably supported by HH Lalji Maharajshri (Acharya-Designate) Koshalendraprasadji Maharaj, who has incidentally taken up much of the Satsang propagation duties, Acharya Maharajshri now instils the same ideals of Satsang seva in his grandson, Bal Lalji Maharajshri Vrajendraprasadji Maharaj.

In over 30 years of tireless service to the Sampraday, His Holiness' accomplishments are too numerous to list here. The following is but a summary of the facts detailed in 'Dharma Setu', His Holiness' biography produced in 1994 during the Silver Jubilee & Golden Jubilee Festival:

Educational Establishments
Accommodating over 8,000 male & female students

* Shree Sahajanand Arts & Commerce College

* Shree Swaminarayan Vidyaalay (Boarding), Bhuj

* Shree Sahajanand Elementary School

* Shree Sahajanand Primary School

* Shree Sahajanand High School

* Shree Sahajanand Multi-Course Academy

* Shree Sahajanand Vaanijay Mahavidyaalay (Commerce College)

Gurukuls/Sanskar Dhams : located at Asaarva, Abu, Jhilvana, Gandhidham, Kalol, Jetalpur, Koteshwar, Mandvi, Chiloda, Idar, Rampur, Saayla, Siddhpur, etc.

NarNarayan Dev Yuvak Mandal (NNDYM) : His Holiness established branches of the NNDYM all over the Northern Zone, under the careful and calculated guidance of HH Lalji Maharajshri (Acharya-Designate) Koshalendraprasadji Maharaj. The organisation's membership exceeds tens of thousands of youth from all backgrounds - students, professionals, businesspersons, etc. tree planting, blood donation camps, religious camps, conferences, seminars, workshops, etc. and processions are but a few of the activities undertaken so far.

International Swaminarayan Satsang Organisation (ISSO) : His Holiness established the ISSO on Vijya Dashmi in 1978 in USA. Today, the organisation spans the world with active groups in all the continents. It is particularly active in USA & UK, where regular camps and conferences nurture the young and mould them into worthy satsangis of the future.

Bhagwan Shree Swaminarayan's 200th Birthday Celebrations : 1981 saw numerous celebrations to commemorate The Almighty's Bi-Centennial birthday. The largest of these were at Ahmedabad, Bhuj & Muli. The renowned Pundit Late Dongreji Maharaj recited the Shreemad Bhagwat Katha at the Ahmedabad festival where hundreds of thousands of devotees gathered. A few days later, His Holiness travelled to Kutch and presided over the festival in Bhuj, under the able stewardship of the resident saints. This was soon followed by the event at Muli, which was celebrated with grand pomp.

His Holiness Acharya Maharajshri's Silver & Golden Jubilee Festival : In 1994, His Holiness completed 25 years as Acharya of the Northern Zone & reached his 50th birthday. The Sampraday came together to celebrate this momentous occasion with His Holiness. Never one to think of himself first, His Holiness ordered that any funds raised from the event should be used to re-construct the dilapidated temple at the birthplace of Bhagwan Shree Swaminarayan, in Chhapaiya. The followers, always eager to fulfil all His Holiness' wishes, did just that. Today, the temple re-construction is complete. The new temple now stands proudly as a testament to Shreeji Maharaj's glory.

HH Lalji Maharajshri correctly taught us during the Silver & Golden Jubilee Festival, to pray to Bhagwan Shree Swaminarayan that we should never ever be without indebtedness to His Holiness Acharya Maharajshri. His Holiness' sacrifices for this Sampraday and us satsangis are beyond contemplation. Long may you (HH Acharya Maharajshri) lead us out of the darkness of spiritual ignorance and away from the temptations of this material world.